Pinkzio Sapphire Freezing IPL Hair Removal At Home
Why pay large amounts of money for a professional laser treatment to remove unwanted hair, when you can use Pinkzio's Sapphire Freezing IPL Hair Removal at your convenience. This innovative device is the future of hair removal as it is a sapphire ice cool removal with upgraded ice sensing panel and built-in super ice cool system which is pain-free unlike the traditional IPL hair removal devices.
1. What is Sapphire Freezing Technology?
Sapphire is a crystal-like stone with a high level of thermal conductivity. It can be positioned in the light outlet to boost the transmission of light energy and improve the effectiveness of the hair removal process.
Pinkzio sapphire hair removal device uses a minimally conductive cooling chip to cool the internal and external sides of the sapphire. The external side of the sapphire which is directly in contact with the skin immediately cools the target area making the whole process painless.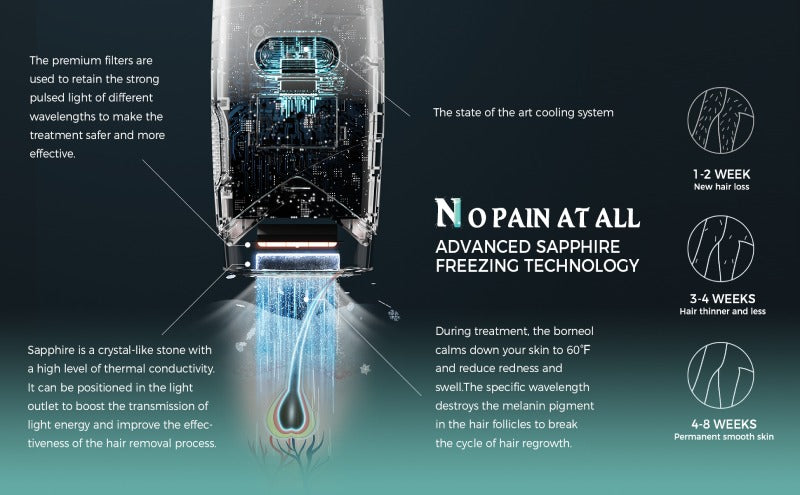 As the skin has many physiological functions such as sweating, sensing, and lots more, the Pinkzio sapphire Ice-cooling hair removal does not affect the function of one's skin.
2. What are the benefits?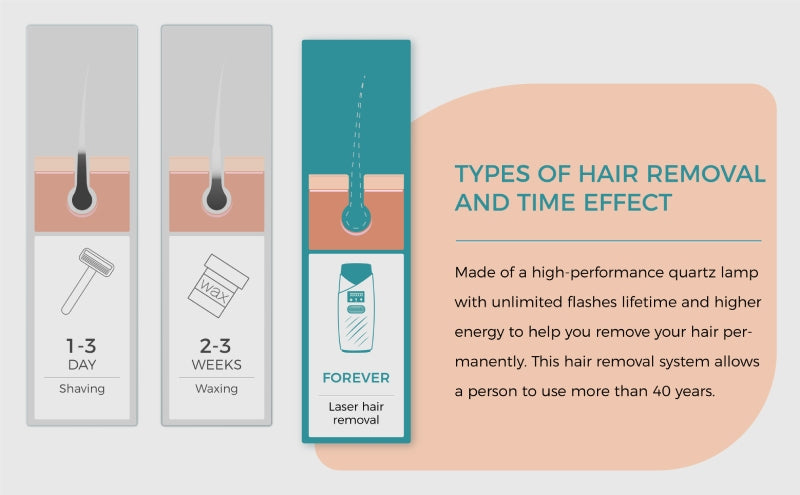 Unlike other hair removal devices and traditional methods of hair removal which can cause pain, discomfort, redness, and swelling, Pinkzio sapphire freezing IPL hair removal is painless and even relieves skin discomfort
Objective research proves you can get 90% hair reduction after three treatments. It is clinically proved to act on hair follicles to achieve permanent hair removal, offering you the same hair removal effect like in a beauty salon.
Less time wasted in visiting beauty salons or waxing and pulling unwanted body hair yourself
Saves cost in the long run as you have the device at your beck and call
Can be used on sensitive areas and different skin tone/type
Accurately penetrate the root of hair follicles to achieve permanent hair removal.
3. How it works?
During the treatment, the light-emitting area is in cooling state, treated area skin down to 60°F making heat sensations less felt. Therefore, the whole hair removing process is no pain at all.
The Pinkzio Sapphire Freezing IPL hair removal is newly launched and designed to use high-energy pulsed light technology to directly act on the roots of hair follicles and inhibit hair regeneration.
After 4-8 weeks of treatment, the hair growth rate is reduced until it is non-existent. You will begin to see up to 90% silky skin, whether on large areas like the legs or the nooks and crannies of your body.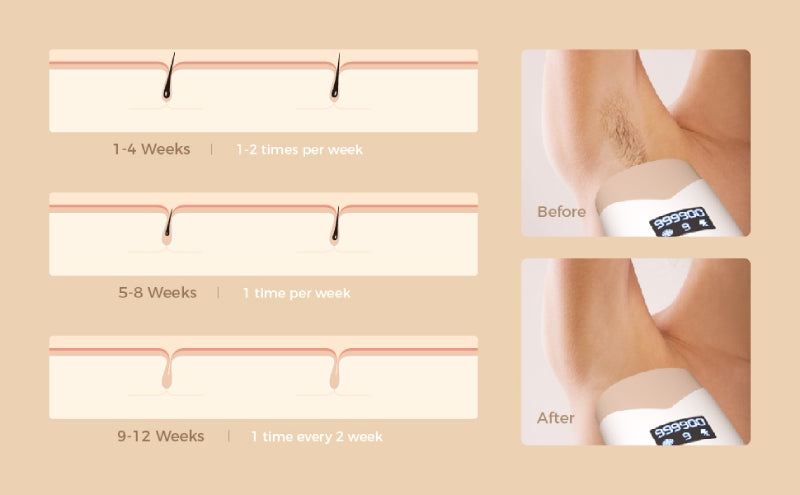 From 1st Month: 2 times/week, hair is significantly reduced by 50%.
From 2nd Month:1time/week, hair starts to thin out and fall out by up to 80%.
From 3rd Month:1 time/2 weeks.  Hairs completely falls out. Hello to smooth and flawless skin. It can be used once every 2 months to achieve permanent hair removal.
Give your body the treat it deserves with this unique device for professional-grade results.
---