How to Pick the Right False Lashes for Your Eye Shape
I'm sure most of the beauty lovers are familiar with false lashes, but to those who are new to wearing false lashes, here are some pro tips and tricks to help you ace your lash game! 
List of Content:
5 Reasons why we need false lashes
How to Pick the Right False Lashes for Your Eye Shape
8 Best False Eyelashes for All Eye Shapes - Fake Lashes
First Of All, Why Do We Need False Eyelashes??
Here are 5 reasons to wear fake eyelashes:
(1)They Stay Intact Even During Emotional Times
Whether you're attending a wedding, watching a heartbreaking movie, or are generally going through a hard time, making sure your makeup stays intact is a struggle in itself. No one enjoys having streaks of mascara running down their face, as it definitely makes them look like an emotional wreck. Luckily, wearing false eyelashes will enhance your eyes and make them look dramatic without risking any dark streaks running down your face. You can cry your heart out without worrying about losing your falsies!
(2)
They're Made of Different Materials
While you may think that false eyelashes are all the same, there are many options available at different price points to suit your needs. If you want a realistic look, go for human hair, luxury silk, or mink. They're soft to the touch while looking like your natural lashes, and no one would ever be the wiser to guess that you have falsies on! Even though eyelash adhesives are strong and will make sure that your lashes stay on, you can easily pull it off when you're done with them. How's that for a win-win?
(3)
They Help Support Your Real Eyelashes
Even though false eyelashes don't have particular components or substances that will grow your eyelashes, opting for these instead of mascara will help your natural eyelashes stay strong and healthy. Repeatedly applying mascara to your eyelashes eventually weakens them, resulting in brittle hair that will break and fall off. However, with false eyelashes, your real ones will begin to look thicker and lusher.
(4)
You Can Go Further With Eyelash Extensions
Fake eyelashes are all well and good, and you can take everything to the next level with eyelash extensions. You can sleep in them and wear them for weeks on end since the correct weight and length are carefully placed on your natural lashes. They're also placed just a millimetre from your skin, so they don't contact your lids in the process. They naturally shed after about two weeks, so you won't have to worry about breakage or pulling them off.
(5)
They Keep Your Skin Healthy
Washing and wiping off makeup is a ritual in itself with all the rigorous rubbing we have to do to clean our faces. Unfortunately, such roughhousing results in eyelash losh and skin damage, especially around the eyes. Removing mascara and eye makeup, in particular, can make the skin around this area dry and brittle, since the constant application and removal using formulas stresses it out.
Luckily, there's none of that with false eyelashes. You won't have to deal with bacteria on old mascara wands, having to scrub your eyes free of makeup or worry about breakage from curling your eyelashes. All you have to do is put on your false eyelashes and remove it when you're done.
How to Pick the Right False Lashes for Your Eye Shape?
You want to pick out a pair of lashes that's going to complement your eye shape as well as enhance your eye makeup, too often people wearing the wrong type of lashes for their eye shape, it just take away from all the hard work of your  eye makeup like eyeshadow, so make sure you don't just pick out any pair of lashes and expect it to look good on you because it's not going to happen.
So how do you pick out the best pair for you? I know this can be a little bit overwhelming, especially because there's so many different brands and types of lashes on the market, but there are a few key things that you should look for and I'm going to go through them one by one.
First of all you want to consider the length of the lashes. Are you prefer something more natural or do you prefer something more dramatic or maybe you're going to a wedding and you want something like in between.
All lashes have different lengths if you've ever gone and had like lash extensions, you can choose the lengths that you want and these range from like 6mm up to like 16 or 18mm. 
Notice:

 

When choosing the length of the lashes, you also need to consider the space you have between your eye and your eyebrow. You don't want something too long that nearly touch your eyebrow, so pick the length in the right balance and that's going to complement your eye makeup. If you're looking for a dramatic eye makeup, maybe you want a more dramatic lash little bit longer or if you want something really natural then maybe you want something a little bit shorter and not so crazy.
The next thing you should look at is the density. Are you after something more natural that maybe is a single layer lash or do you want something more fluffy or 3D?
The next thing you want to look at is the shape of the lashes. lashes do come in all all so shapes and designs, but feel like there's two main common ones.

(Sample: Pinkzio Lushy Luscious)
First is the round shape lash. Round lashes have shorter strands on both sides
and the longest is in the middle. This shape is great. If you want to make your eyes look more open and rounded and it's great for wide set eyes

(Sample: Pinkzio Run the World)
Then there's the flare or cat eye shaped lashes. This is where the lashes start off shorter in the inner corner and then flare out and get longer towards the outer corner. This is a great shape for those with droopy downturn eyes, closet eyes or rounded eyes that want to extend the shape of the eye making it more arm and fluffier.
For like you got hooded eyes, both rounded lash or a flare lash could be your best options. That's also a crucial part for build the perfect eye makeup.

You may want to choose the design and pattern of the lash depending on your eye makeup. For example, if you're doing an eye makeup look where there's a highlight or glitter that you want to showcase and show off, you would then pick a lash that has little spaces in between, these little gaps in the lashes will help your eye make a peek through when eyes open.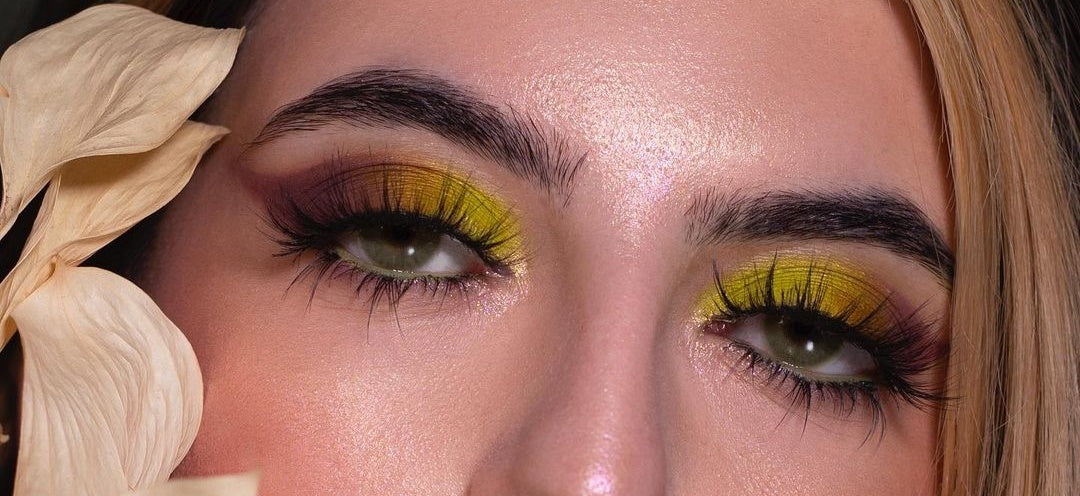 (Photo by: @elinaruni with Pinkzio Lash-Vibe Queen)
You don't want to choose a lash that are super dense, has little gap in between because when you put them on, it fills up your whole lid space and covers your eyeshadow, so there is no point to wearing eyeshadow and it makes your eye makeup look horrible. Whereas if wearing a lash with little gaps in between it actually shows off your eye makeup clearer. It's still defines and enhances your eyes, makes them look bigger but then it doesn't take too much away from your eye makeup.
Saying that you are doing a smoky eye makeup that really dark on the lash line and it smokes upwards, you can wear a lash that has more density or less gaps. This will help to fill in your eyelid area, as long as you're doing a gradient smoky eye makeup but darkest towards the lash line, It's going to help open up your eyes. But be sure to check the length of the lashes. You don't want anything too crazy.
 (Photo by: @anastasianeganova with Pinkzio Lash-Lushy Luscious)
The last thing you should consider is the material of the lashes. So what's it made of? Is it synthetic?Is it made of silk? Is it made of human hair? Is it made of animal hair like mink? 
Of all the material, each one of them has a certain look. For example, human hair lashes tend to be blunt at the ends, whereas silk or synthetic lashes they can be made to tapered lash, and this looks a lot more natural.
Then there's animal hairs like mink lashes, these are fluffier and tend to be a little bit lighter but nowadays you can get foaming versions that I made of synthetic fibers so you don't have to worry about harming any animals.
If you are looking for cruelty-free lashes, our lashes are made of synthetic fibers and we have like all sorts of different designs, shapes and lengths that you can check out online.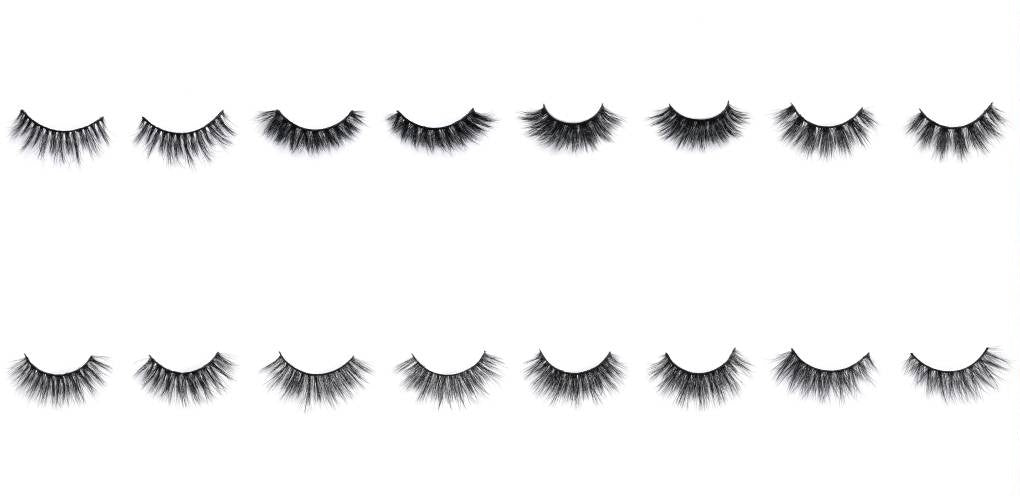 Hopefully you can get better understand about the lashes and when you look at a lash if it's going to suit your eye or not.