This Is What You Must Know Before IPL Treatment (Update 2022-Part 2)
Welcome to the second part of "what you must know before IPL treatment". The questions are listed as below.
How To Use IPL Hair Removal at Home?
How Long Does IPL Hair Removal Last?
Is IPL Hair Removal Safe?
How Long To See Results From IPL Hair Removal?
What Not to Do Before IPL Treatment?
How To Use IPL Hair Removal at Home?
Take Pinkzio IPL hair removal as an example:
Step 1: Remove all visible hair in the area you want to treat with your preferred hair removal method, like shaving. Make sure that there is no hair remaining above the surface of the skin. Then keep your skin dry.
Step 2: Do a test. Choose a small area on the arm. Use the LOW treatment level and follow the treatment instructions make sure to emit only 1~2 shots. Only if you feel comfortable, you can continue to reach the higher levels or the maximum. Stop the test once you do not feel comfortable, as increasing the level increases the risk of adverse effects.
Step 3: Put the nozzle in full contact with the skin to make sure the product works correctly. If the indicator light flashes white, a valid skin tone is detected. If not in proper contact with the skin, the device will not flash. In the case of no light, there is not full contact or it is an invalid skin tone.
Step 4: For larger body areas use auto flash mode: the skin sensor takes effect for 0.2 seconds, flash it once. For smaller areas and sensitive areas, use manual flash mode, press once for flash one time.
Step 5: It is important to clean the light-emitting window after every use.
Step 6: In the first phase of your treatment, treat once or twice a week for 6-12 weeks. Then adjust to your needs (i.e., every 1-2 months).
How Long Does IPL Hair Removal Last?
The fact is that, although IPL hair removal is permanent, your hair will eventually come back. While you might not need a touch-up for two to six years after finishing treatments, touch-ups are usually required at least every one to four times a year. According to Dr. Bernstein though some hair will grow back, it will be finer and less coarse than before.
It's also not a one-and-done situation. After you've completed all of your sessions, laser hair removal will last at least two years; however, maintenance sessions may be required to maintain the area hair-free indefinitely.
Is IPL Hair Removal Safe?
According to Dr Rick Tinker, head of assessment and advice at the Australian Radiation Protection and Nuclear Safety Agency, studies state that harm from home-use (or at-home) devices are limited.
But there is a risk of eye damage from exposure to these bright light sources, as well as skin injury from improper use. IPL hair removal devices work by a wavelength of light targeting the hair follicle, and because consumers aren't trained to know what they're doing or what they're treating, they can potentially make skin conditions worse. If any of bad conditions appear and last more than 24 hours, You should consult your physician or dermatologist.
How Long to See Results From IPL Hair Removal?
You should not see any significant side effects from treatment. In the first few weeks following initial treatments, you will still see some hair growing. These are likely to be hairs that were missed during treatment i.e. They were lying dormant and not in their growth phase (Anagen)during treatment
What Not to Do Before IPL Treatment?
-It is It is critical to shield the treated skin from the sun for at least 4 weeks before and 4 weeks after ipl treatments. This is best accomplished by using SPF 30 sunscreen on a regular basis and wearing a helmet during times of higher exposure to the sun's rays. Any tan or "color" from the sun might have negative consequences.
-man-made tanners must be stopped three weeks before your treatment.
-Aspirin should be avoided for 10 days before an IPL treatment. Ibuprofen (Advil, Motrin) and Vitamin E pills should be stopped 5 days before the surgery. Taking aspirin or ibuprofen in the week before treatment may cause greater redness or bruising, as well as a failure of redness and capillaries to diminish after therapy.
-Do not use retinol, Retin A (tretinoin), or glycolic acid products 2 days before treatment.
What's The Best Ipl Home Hair Removal?
After experiencing the many drawbacks of shaving (ingrown hairs, redness, irritation, and speedy re-growth), we contemplated alternative hair removal methods this season.  Since professional laser hair removal isn't the most convenient option (visits may take up to two hours, and can cost up to $600-$800 per session), and some of us can't get to an appointment right now, we're looking at the next best thing: at-home IPL hair removal devices.
By far, everyone had the best results with the PINKZIO ipl hair removal (known for sapphire technology, their at-home devices are also excellent for permanent hair removal).
A fan favorite since our company began, it features 9 adjustable power levels, and two mode - allowing for a complete IPL hair removal session in just 10 minutes.  For all of us, it took just about 8-12 Weeks using it once per week to get rid of unwanted hair.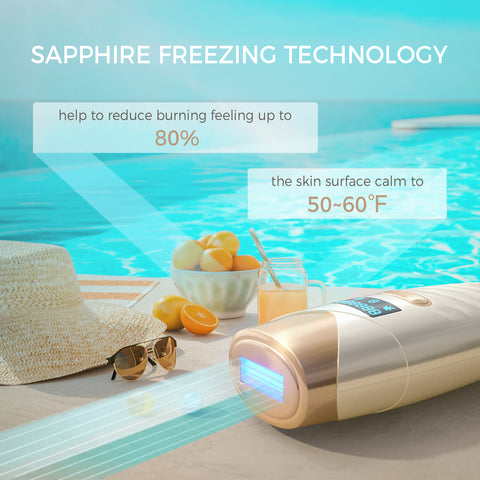 ✔Painless, left my skin with a sense of cold after a session.

✔FDA approved for at-home IPL hair removal.

✔No need to shave after a couple months of weekly use.
 Thank you for stopping by. Don't forget to follow our social media @pinkziobeauty 
Want to know more? Here is the previous blog: This is What You must Know before IPL Treatment (Update 2022-Part 1)
---