All You Want to Know about Sapphire IPL Technology
What kind of device will you choose to remove unwanted hair at home? Laser hair removal or IPL hair removal? According to customers who tried both of ways to have smoothy skin, IPL hair removal is a gentle and effective way to get rid of hair on large hairy areas. Many people are curious about the types of IPL hair removal. With summer approaching, Sapphire IPL hair removal goes a hit on the Youtube, Instagram, Facebook and TikTok. In this page, you will discover more what sapphire is and why sapphire tech can be used in IPL treatment.
First of all, let's dive into where Laser hair removal come from. Laser hair removal is a comparatively new procedure, but it does have a fascinating history. Laser hair removal is mostly painless, super-efficient, and mostly permanent today, but when it was first introduced, it was quite the opposite. In 1960, Theodore H Maiman invented the first laser to destroy hair follicles. A tiny ruby gemstone was used to create this laser. Maiman's ruby laser was tedious, sluggish, and incredibly painful, often causing severe burns. Though it was effective in reducing hair growth, it was not a long-term solution.
The alexandrite laser was invented ten years later. Though it was significantly less painful than its ruby predecessor, it limited the heat required to completely kill hair follicles, resulting in imperfect results that took years to achieve.
Laser hair removal did not become essentially permanent until the early 1980s. In 1983, scientists devised a laser that could accurately target a single hair follicle while causing no harm to the skin. At that time, more and more people found laser hair removal is a good to permanently removal hair.
Today, Laser hair removal clinics can provide almost painless, permanent laser hair removal treatments. There are also FDA-approved laser hair removals for home usage. With the development of internet, online appointment became a relatively good option.
For those who don't have time to participate in appointments, an at-home hair removal device can be a perfect solution. No matter how busy you are, saving 5-10 minutes for hair removal each treatment will help get significant results in hair reduction. One of the most popular at-home devices, sapphire IPL hair removal, draw people's attention. As the latest technology of IPL hair removal, sapphire tech gives the best experience in removing hair. People may wonder: what is sapphire technology? Is that real sapphire gemstones in the device? What does customer expect with sapphire technology? Stay with us, here are the answers.
What is A Sapphire?
Sapphire is known as a precious gemstone consisting of aluminum oxide (α-Al2O3) with trace amounts of other elements like iron, titanium, chromium, vanadium, and magnesium. The word sapphire comes from the Latin "saphirus" and the Greek "sapheiros," which both imply "blue." Its most common color is blue, but natural "fancy" sapphires can also occuryellow, purple, orange, and green.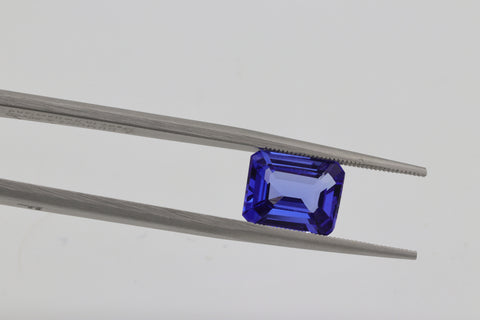 But in IPL device, we use Sapphire crystal instead of Sapphire gemstones. It's an oxide crystal with a high thermal conductivity at room temperature, equivalent to stainless steel. It is widely used as a unique heat-dissipating material due to its light transmitting properties, heat resistance, and corrosion resistance. Its extraordinarily high thermal conductivity at low temperatures, in particular, makes it an ideal heat dissipation material in cryogenic situations.
How Does Sapphire Work in IPL Hair Removal?
To assure the quality of IPL Lightguide, optical grade Sapphire crystal with ultra high thermal conductivity is used. The key optical element for an IPL (intense Pulsed Light) machine is the sapphire IPL light guides, which filter the Ultraviolet Waves (UV) wave and reserve the essential wave from 400nm to 1200nm for cosmetic laser, such as hair removal, vascular and acne treatment.
Available wavelength: 515 to 1200nm, 530 to 1200nm, 550 to 1200nm, 560 to 1200nm, 570 to 1200nm, 590 to 1200nm, 615 to 1200nm, 645 to 1200nm, 695 to 1200nm, 755 to 1200nm, 780 to 1200 nm.
For Pinkzio Sapphire IPL hair removal, its light wavelength is between 530 and 1200nm.
What to Expect with Sapphire IPL Technology?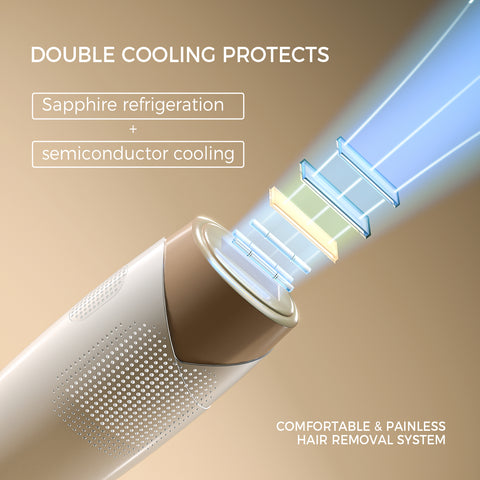 During the therapy, the light-emitting area cools down to 60 degrees Fahrenheit, which reduces heat sensations. As a result, the entire hair removal procedure is completely painless.
Pinkzio Sapphire Freezing IPL hair removal is a revolutionary product that uses high-energy pulsed light technology to work directly on hair follicle roots and prevent hair regrowth.
The rate of hair growth is slowed until it is non-existent after 4-8 weeks of treatment. Whether on large areas like the legs or in the nooks and crannies of your body, you'll discover up to 92% hair reduction.
---